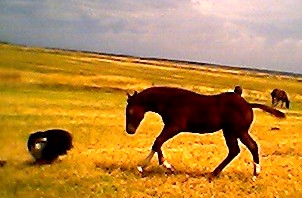 April '02 chesnut Stud colt, by JEWELS N KINGS X LYNXOLENA PEPP.
I DON'T THINK I HAVE EVER SEEN A BETTER COLT! CUTTER AND REINER DELUXE!! This gorgeous boy has two tall stockings, one sock, star and snip. DOC O'LENA, POCO BUENO, CAT O LENA 380, COLONEL FRECKLES, LITTLE PEPPY LYNX, DOC JEWEL BARS, and more greats, ALL ON HIS PAPERS. Cowy and Athletic, great disposition too! $2000. SOLD!!
CONGRATS, LINDA DEMPSEY!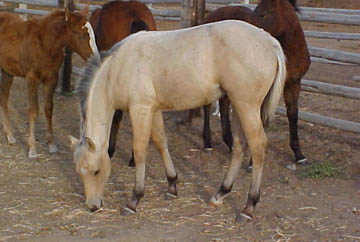 APRIL '02 BUCKSKIN COLT, by, LOLITAS DUN IT X TAFFYS LACE.
This guy is soooo GORGEOUS! He really has the moves too, a REINER deluxe!
HOLLYWOOD DUN IT and SUGAR BARS! Catch him quick at $1500! SOLD! CONGRATS BOB & KAR BELKNAP!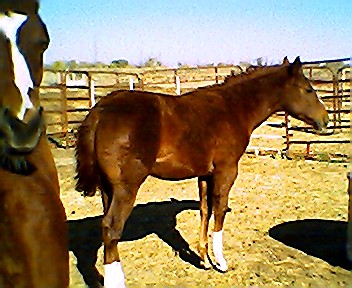 APRIL '02 CHESNUT FILLY, by, SMOKESMAN X MARIA MITO. Built like a brick and really flashy, 3 stocking legs and a blaze! This outstanding filly is an own grandaughter of NRHA HALL OF FAMER, HOLLYWOOD SMOKE! Her sire is a $$ earning cutting horse and producer of reined cow futurity champs, he is also a grandson of the immortal MR GUN SMOKE! Her dam's sire is a AQHA CUTTING ROM AND NCHA $$ EARNER, and own son of AQHA CHAMPION, MR MITO DOLL, and out of a MR GUN SMOKE daughter! Super filly at a super price!! $1500
APRIL '02 PALOMINO FILLY by, JEWELS N KINGS X ANDYS FIRE N LACE
BEAUTIFUL FILLY WITH A GOLDEN DISPOSITION! "Hershey" dropped on the ground loving people and as athletic, loving and inteligent as her mama. Her dam has won for us in ranch cutting, team penning, sorting, trail horse, and 8 overall belt buckles for the kids! A better mare you will not find, a family treasure! I have trusted this mare with my little ones, ridden her legs off on the ranch working cattle, and this filly is a hard one to part with!! This lovely lady has POCO BUENO, DOC BAR, COLONEL FRECKLES, DOC'S GOLDMINE, DOC'S ANDY BAR, ALL ON HER PAPERS! $2000. SOLD! CONGRATS LINDA MCKORMICK!
HER MAMA IS BRED SAME WAY FOR 2003 FOAL!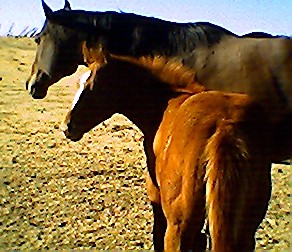 JUNE '02 SORREL COLT, by, JEWELS N KINGS X SHEZ RUNIN ON
Fancy colt with huge hip, pretty head and awesome bone! He will have all the cow and all the speed needed to be your next champion Roping horse or Rodeo horse deluxe!! With, DASH FOR CASH, POCO BUENO, COLONEL FRECKLES, DOC BAR TONETTE, ALL ON HIS PAPERS!! $1500.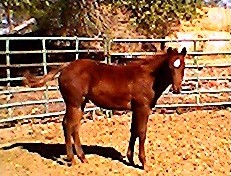 MAY '02 STUD COLT, by, SHINERS TARI X COINS DAWN
lOOK ALL DAY AND TRY TO FIND A PEDIGREE LIKE THIS ONE FOR THIS PRICE!!
You wanna win the futurity's?? "Sparky" is the colt to do it. SHINING SPARK, KINGS COIN, DOC TARI, GENUINE DOC, KING, ALL ON HIS PAPERS!!! He is also a dark chesnut, with roan flanks and a coon tail, cool!! $2000 SOLD! CONGRATS LINDA DEMPSEY!
CHECK OUT SOME OF THE GREAT HORSES ON THESE COLTS PAPERS, GO TO STALLION PEDIGREES AT, QUARTER HORSE DIRECTORY! ITS FREE AND LOADED WITH INFO!! HERE IS A LINK: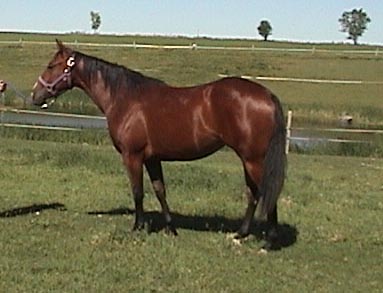 CHECK OUT THIS FANCY PEPPY SAN BADGER GRANDAUGHTER AND OTHER GREAT CUTTING BRED FILLYS ON OUR "HORSES FOR SALE" PAGE.
THANKS FOR STOPPING AT OUR OUTFIT FRIENDS, AND BE SURE TO SEND US YOUR WEBSITE ADDY'S SO WE CAN CHECK OUT YOUR PLACE!!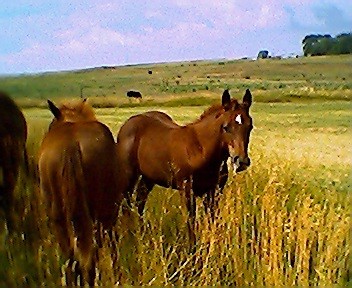 May '02 chestnut stud colt, by JEWELS N KINGS X HOLEY T FIVE. Wow what a great colt, the famous KING X LEO cross works magic! "Leo", is a real beauty with all the right moves! He has a big stop and really gets up under himself. Lotsa speed too, this one will excell in reined cowhorse!! HOLEY SOX, MILLER SAN, COLONEL FRECKLES, POCO BUENO, LEO SAN, ALL ON HIS PAPERS!! $1500.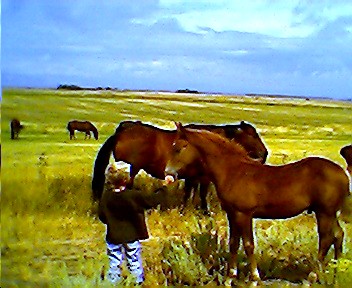 KINGS HANGMAN (pending) MAY 'O2 chesnut stud colt, by, JEWELS N KINGS X MISS LEO COPPER MAID. What a class act! Maybe the prettiest colt yet! This guy has a really unusual peachy gold hue and a flaxen tail, a gorgeous head and big eyes! His dam is a AQHA CUTTING PTS. EARNER and CUTTING $$ EARNER. He has COLONEL FRECKLES, IDAHO HANGING, POCO BUENO, MILLER SAN, MR SENBAR, ALL ON HIS PAPERS! A cutting and reining prospect deluxe with plenty of bone and all the right moves! Would really be perfect for the new AQHA VERSATILITY! $1500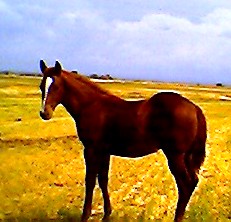 MAY '02 CHESNUT FILLY, by, JEWELS N KINGS X SUPRISE ME PLAYGIRL Great looking filly, built like a cowhorse should be, what a hip! This lovely lady is supremely bred and sweet too! She will win the futuritys for you. FRECKLES PLAYBOY, BADGER STARLIGHT, COLONEL FRECKLES, POCO BUENO, DOX FRECKLES, DOC JEWEL BARS ALL ON HER PAPERS!! $2000
JUNE '02 GOLDEN PALOMINO COLT, by VODKA COLLINS X CEE CEE CHEX
Wow! This colt is the last of his line, his sire died last fall. He not only has JESSIE JAMES, KING FRITZ, BETSA CHEX, COLLINS JESSIE ALL ON HIS PAPERS! But his dam is a NCHA $$ Earner, and he is a doll to work with! AINT NO MORE LIKE THIS ONE! $1800.
APRIL '02 BAY COLT, by, LOLITAS DUN IT X DOCS RONDO PROM
This cute guy has lotsa bone and size and should be a supreme reined cowhorse! His papers will have, DOC'S HICKORY, HOLLYWOOD DUN IT, DOCS RONDO, HICKORYDICKORYDOC!! $1500.
MAY '02 CHESNUT STUD COLT, by, JEWELS N KINGS X RAKS FRECKLED STAR
Great cutting and reined cow prospect here! His dam is one of our all time best cowhorses, she works with all her heart and will put her shoulder up against the toughest cattle and turn 'em! Not only have we ridden her legs off on the ranch, but the kids have won money in barrels and poles on her alot! She is fast and cowy as they get! This colt's pedigree is awesome too, with, COLONEL FRECKLES, DOC BAR, POCO BUENO, DOC'S TAMARAK, & IM A FRECKLES TOO, ALL ON HIS PAPERS, PLUS MORE!! $1500.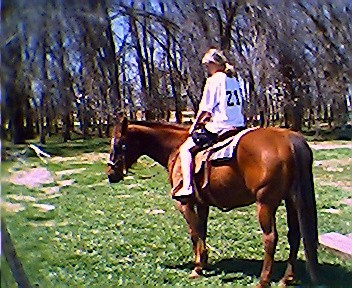 WANT A BARGAIN?? 2 FOR THE PRICE OF 1?? CHECK THIS OUT!!
PEPPY SAN and PAR THREE dark chesnut mare, 16yrs. Gentle, guaranteed sound,
broke and nice for trail and ranch, great to handle. Bulldogg build, very athletic.
This good looking mare is bred for a 2003 APRIL foal to JEWELS N KINGS. LFG
THIS MARE WILL HAVE AN OUTSTANDING FOAL AND PRODUCE MANY MORE FOR YEARS TO COME!! GREAT DEAL! $2000. hurry!