BROKE RANCH, RIDING & SHOW HORSES!
Maria is a finished working ranch horse, she is VERY cowy and you can rope and brand on her, she loves to work. Maria would excell at team penning and sorting, as well as mountain and ranch work. She is very easy to catch and handle, loves people, and she walks out like a cowboys dream! Her sire is a NCHA $$ earner and son of a AQHA Champion. $2500
PALOMINO PEPPI DOX GELDING, WELL STARTED!
STARTED FOR REINING & VERY TALENTED.
This 4 yr old palomino Gelding is well broke by a Pro trainer leaning towards Reined Cowhorse. He is very talented and cowy! A great athlete with the papers to back him! Doc Bar, Peppi Dox, Peppy san, Leo Bingo,& Leo SAn, on the papers! Rope or Rein or Team Penning deluxe! $3000!
Homer (AQHA bay 2003 gelding) is a super athlete and very cowy! He has an ugly head! But you don't ride his head~! He is tough and has great feet and bone and will go all day, and is smart! He is getting started now. He will be the best ranch gelding a person could have, pretty is an pretty does! His pedigree is AWESOME! With POCO BUENO, SMART LITTLE LENA, PEPPI DOX, & PEPPY SAN, ALL ON THE PAPERS! SUMMER SPECIAL! $1200!!!
Maggie is a 6 yr old cutting bred mare that has had 9 months of Reined Cowhorse training~! She is sweet, great to handle, very cowy, knows all her reining basics, has been started on cows, and is great fun to ride! Finish her up to show and win some big bucks! She took a break to have a foal by an elderly stallion who wasnt going to be avail anymore, but is ready to get back to work now!
see her pedigree here:
Buy her for LESS than the training fees! $3500! (mare only) This girl is totally awesome to handle~!
(she would ship in November, as her foal was late)
Flick is a 4 yr old sorrel gelding, he is VERY COWY, and super athletic, willing and ready to work! He has only 10 rides on him, so we have him for sale for CHEAP! This gelding will be the best cowhorse you ever had! His sire and dam are both proven and he would excell at Roping, Reined Cowhorse, all Rodeo sports, and Ranch! He is sound and in great shape. HE JUST NEEDS A JOB! Summer SPECIAL!! $1500!
DOC BAR, POCO BUENO, COLONEL FRECKLES, IM'A FRECKLES TOO, DOC'S TAMARAK, ON HIS PAPERS!
CLICK HERE FOR THE YEARLING REINING, CUTTING & COWHORSE PROSPECTS!
BROODMARES!!!
FOR SALE!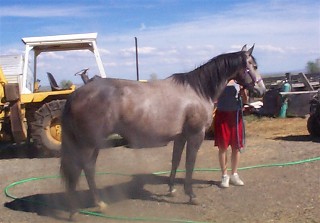 This pretty Grey mare is a MR GUN SMOKE grandaughter and her sire is a NRCHA & NCHA $$ earner, and her dam's sire & dam are BOTH- AQHA Champions!
SHE IS BRED TO: Ima Dun Cody for an 07 foal! A great 2-1 package!! $2850!!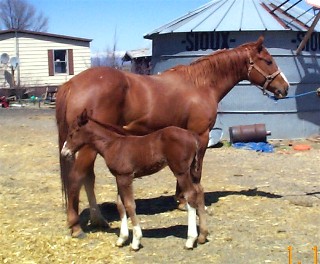 Double bred MR GUN SMOKE mare and bred to a Buckskin son of HOLLYWOOD DUN IT for 2007!
Her sire is a NRCHA $$ eaner! This 2-1 package will make you a CHAMPION WCH! $2850!
PALOMINO & OWN DAUGHTER OF SESITIVIO! Annie Reynolds Jones famous stallion. He was a SBF champion, NCHA COA, 10K himself and the sire of the Calif. SBF Champion, National Finals SBF Champion, NRCHA Ladies World Champion, Champion Bridle horse at the prestigous Reno Rodeo, Top 5 sire of the OREGON, IDAHO, & Nevada SBF's.
Her dam is a grandaughter of WORLD CHAMPION, Doc's Zimfandel! and a grandaughter of the mother of Genuine Doc! This mare is well broke, you can rope off her and she is a pleasure to ride. Bred to a BLUR ROAN for an 07 foal! $4,000.
SEVERAL BRED BROODMARES ARE NOT LISTED, EMAIL FOR A COMPLETE LIST. INCLUDING PALOMINO SESITIVIO -DAUGHTER,BLACK DOC'S PRESCRIPTION GRDAUGHTER, SUGAR BARS MARE, DOC O'LENA MARES ETC. EMAIL ME!
AWESOME 2 yr OLD REINING & CUTTING PROSPECTS!
A STAR IS BORN!
This 2 yr old filly will take you to the TOP of the Reining or Reined Cowhorse world. SHe is HUGELY talented and GORGEOUS to boot! She has had extensive ground work, been ponied and had her first few rides. This HOLLYWOOD DUN IT filly will put you in the MONEY!!
$3500 and HURRY!
she is by IMA DUN CODY - NRHA $$ earner and NRHA & AQHA PRoducer! and her dam's sire is a son of MR GUN SMOKE, out of a daughter of KING!
THIS COLT IS 2 AND READY TO GO!
DOC'S OAK GRANDSON! His dam is a NCHA $$ producer & SBF CHAMPION Producer! This colt will sure nuff cut a cow! He is very gentle, has been saddled and worked in the round pen, he is a 2 yr old and ready to be a futurity prospect. This colt is SLIGHTLY toed out, not a problem for anything. HE is a winner, very cowy and athletic and a huge stop! Priced to sell, $2000!
I HAVE SEVERAL MORE 2 YR OLDS THAT ARENT LISTED YET, HOLLER FOR A COMPLETE LIST!!
LOOKING FOR SOMETHING REALLLLLY SPECIAL?!
I have several great Idaho ranches, and trainers, and breeders to draw from! I have many great horses, of all types, broodmares, broke ranch horses, prospects, to draw from , just tell me what your looking for and ill send you some peds and pics to check out!
CLICK HERE GREAT WEANLING REINING & CUTTING PERFORMANCE PROSPECTS!