This colt is a cat! A SUPER athlete, with a great pedigree!
He will win for you in Reining, Reined Cowhorse or Cutting.
His sire is a NRHA $ earner and Producer with his first colts to show! His dam is a wonderful working cowhorse mare that has the the biggest heart ever, and never says quit!
Catch this buckskin beauty quick~! $3500
Stunning BLACK filly! SHe is a people lover and an incredible mover~! With the foundation pedigree you will LOVE! Her dam is a producing mare and was the dam of the high seller at the Great Basin CowHorse sale! She is an own daughter of AQHA Champion Dell Jiggs X Poco Dell- AQHA Champion X Poco Bueno- AQHA CHampion. AND she is out of a daughter of AQHA Champion GOld Bert Bailey! This pedigree is all CHAMPIONS!
This filly rocks. $3500
Talk about color! This filly is a DUN ROAN! She is a big girl, very muscular and athletic! Her dam is a GREAT mare, a grandaughter of both MR GUN SMOKE & DOC'S ZIMFANDEL, and both her sire and dam are champion cowhorses NCHA $ eaners!
This filly is sure nuff a cowhorse and can stop big time, and will be stout enough to stop a BIG steer~!
$2500
YOU WANT CLASS? PEDIGREE? ABILITY? ADD AWESOME DISPOSITION AND HERE HE IS!
Dam is a futurity Champion producer and is the best mare you could want. Check out this pedigree and then come see partner!
$2500
Enter content here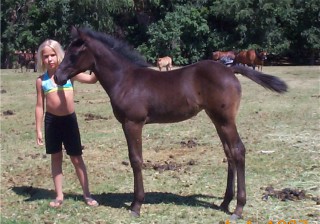 WOW! a coal black Hollywood Dun It Filly! Her pedigree is to die for, all filled with great champions! Her sire is a NRHA $$ earner and son of Hall of Famer, and her dam's sire won $75K in NCHA and is a son of Hall of Famer- Peppy San!
This filly is the Cat's Meow! She is also a people lover!
$3500
THIS COLT IS A WINNER! He has a tremendous pedigree, great color, super disposition, conformation is wonderful and he is totally talented! THE COMPLETE PACKAGE! My pick of the year for STUD Potential! Sire is a NRHA $$ earner and son of Hall of famer, grandson of two more hall of famers!
Dam's sire has a LTE of $30k plus, and dams dam is a producer of over $50 k!
$4000. SOLD!!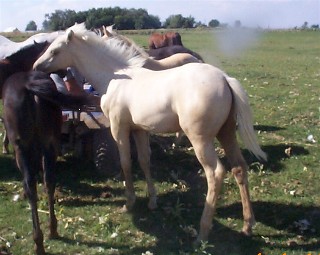 DROP DEAD GORGEOUS PALOMINO REINING, WCH, CUTTING & STALLION PROSPECT~~!
This colt is sooooo classy, with a perfect head and a great hip, his legs are wonderful and he FLOATS! This one will win bigtime in either working cowhorse or reining. His dam is a NCHA $$ earner and 1/2 sister to Annie Reynolds- great -SENSITIVIO!
ON his papers: HOLLYWOOD DUN IT, JOE CODY, IDAHO HANGIN, MR SENBAR, HOLLYWOOD JAC 86, MILLER SAN, & MORE~! ALL CHAMPIONS AND HE WILL BE TOO!
$3500
MY FRIENDS & RELATIVES COLTS!
(Lot'a Wood Ranch is agent for these foals)
BLUE ROAN!!
This fancy Blue Roan stud colt, is built like a brick! His sire is a NCHA $$ earner and NCHA & NRCHA $ producer as well as producing Nevada Stallion Stakes Champions & TOP penning horses! HIs dam is black and his sire blue roan, so great color genetics here. ON his papers you will find DRY SPEC A PEPPER, DRY DOC, AQHA Champion Buttermilk Bar, cutting Champion Docs Rondo and more. $3000
Very pretty Bay colt that MAY ROAN! His sire is a NCHA $$ earner and producer of Nevada Stallion Stakes Champions, Reno SBF top tens, NRCHA $$ earners, Utah SBF finalists and MORE! His dam broke her shoulder so couldnt be shown but BOTH her sire and dam were NCHA $$ earners and she is also a grandaughter of LUCKY STAR MAC and IDAHO HANGIN, both great performers! $2000