BID ON THIS PRETTY GRULLA FILLY IN OUR LATEST EMAIL AUCTION!
This very pretty filly has a HUGE stop on her rollbacks are very pretty! Her dam is a Reining $$ and Buckle winner in OPEN reinings, and at age 23 this mare can still PLUS a spin!!!
Filly has TONS of stripes,and is loaded with dun factor!
SHe will shed off a GORGEOUS silver GRULLA, just like her dam! Her sire and Dam are BOTH grulla, so this filly WILL be a great COLOR PRODUCER!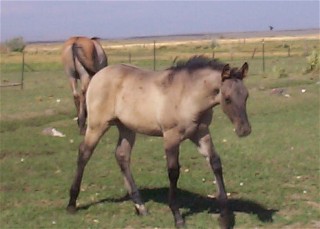 CLICK HERE TO SEE HER PEDIGREE!
We purchased the dam of this filly to breed in 07 to our Hollywood Dun It son. Her foals have impressed us, and her natural reining ability, solid show wins, and total SOUNDNESS at age 23 prove her a great addition to our Mare band.
This filly was in Utero at purchase and as always her dam has produced a great Filly!
HER DAM AT AGE 23!
THIS MARE SLIDES 15 FEET AT AGE 23! BAREFOOT!
QUIZZIE is being offered on a EMAIL AUCTION, just for some FALL fun! A great chance to get a GORGEOUS GRULLA filly that WILL perform for you! Her Minimum is only $1,500. so that is the starting bid!! All bids must be made in $50. OR $100. increments.


All bids are to be made thru Email, Auction starts, OCTOBER 8TH, 2006 and will run for two weeks to OCTOBER 22nd, 2006.

Each night i will update the current bid on this page!

ON OCTOBER 22nd, 2006 at 9PM MST, the highest bid will own this fine filly!


ALL TRANSPORTATION IS THE BUYERS RESPONSIBILITY! THE FILLYS PRICE WILL INCLUDE A CURRENT COGGINS AND HEALTH PAPERS GOOD FOR THE STATE OR COUNTRY OF NEW OWNER.
Filly will be weaned on NOVEMBER 1ST, 2006. We will include board till DEC. 1st, 2006 in the winning bid, so you have time to arrange shipping. After that date, $5 per day board will apply. Filly must be paid in Full within one week of close of auction. She is Guaranteed sound and healthy upon shipping. Filly will be halter broke, taught to tie & load, given a 5-way vaccination and a wormer with Ivermectin at weaning.